Our online store is open 24/7
---
The safety and wellbeing of our customers and staff is always our top priority and have implemented measures to continue business as usual.

Our online store will remain open 24/7 for all of your bathroom renovation needs. Whether you're looking to buy or have already purchased, our friendly Australian-based service team is available through phone, virtual video call, email, and online chat to assist you.

All orders are being fulfilled Australia-wide, with no restrictions on interstate freight. Some of our couriers are experiencing higher than normal demand, as such there may be some transit delays. We ask for your patience during this time and rest assured we are doing everything possible to avoid any delays.
We have adequate stock at this time but encourage you to get your orders in as soon as possible to ensure stock allocation. If there are any stock problems, our team will notify you as soon as possible and assist in finding an alternative.
Delivered safely to your home
---
Full support will be available via phone, email, and live chat. Our hours are Mon - Fri, 9 am - 4 pm with our Australian team
We have stock and are still receiving stock from suppliers. If there are any expected delays in your order we will let you know
FREE storage will be provided in our Sydney warehouse for orders if you want to get in early
Our couriers, Australia Post, TNT, and Hunter Express have already implemented 'Contactless Deliveries' to protect the health and safety of customers
We are still delivering, freight and logistics have not been affected by border closures or shutdowns, but please be patient as there may be some delays with unusually high demand for deliveries.
Products can still be picked up from our Sydney warehouse where we will be practicing 'Contactless pickups'
We kindly ask our customers not to visit our concept space in Castle Hill for consultations as the majority of our staff will be working from home.
Ways we can help you at home
---
Virtual Consultation
Book a free Virtual Consultation and let our team of experts help you with product recommendations, style advice, and more.
Personal Shopper
If you would like our team of specialists to help select products on your behalf based on your style requirements, simply fill out this easy online form and have products selected for you without the hassle of choosing individual products yourself!
3D Design Planner
A great way to start your reno and help plan your space is with our 3D Design Planner, which can be used from the comfort of your own home! Start planning here, your ideal layout can be submitted to our team for a quote.
Augmented Reality
Our Augmented Reality tool is perfect for bringing your dream products right into your space. This way you can visually picture what that tapware colour you were unsure about will look like in your space. On your desktop, simply click on the 3D model and you will be able to rotate the product in every angle to get a better idea of what the product looks like.
On your phone, click on that same 3D model, and simply click "View in my room". You will then be able to scan your space, and the product will be placed in your space. You can then move the product to wherever you need it to go. The products will resize themselves to be real-life sizing, so we don't recommend playing with the resizing too much.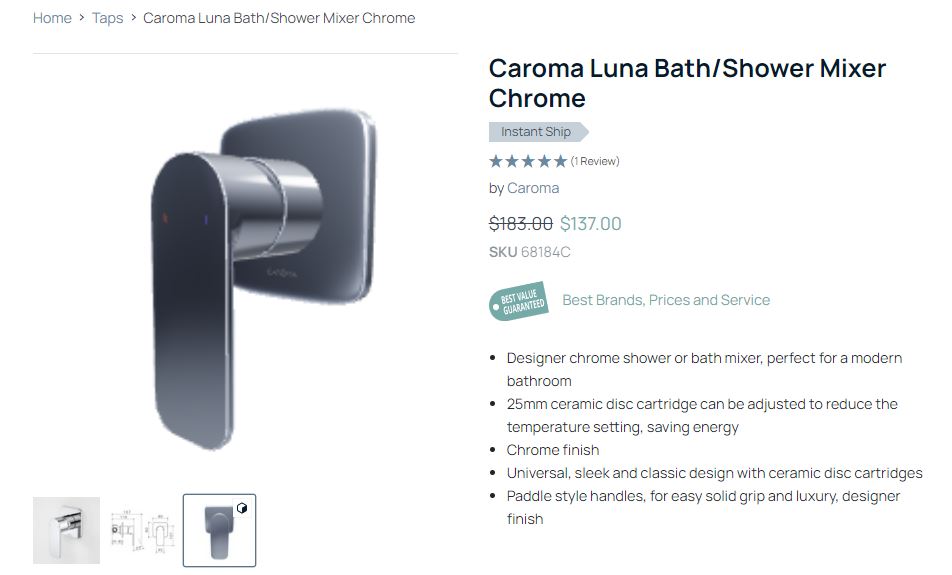 Visual Shopper
Our Visual Shopper tool is available to most of our bathroom vanities, and bathroom mirror cabinets. This tool allows you to view the size and configuration, cabinet finishes, as well as benchtop, handles, basins, and accessories.
Simply go through each step to build your dream bathroom vanity or mirror cabinet. Select the size and configuration (doors, drawers, and where these will go, and basin location), choose your finishes, and add any additional accessories to spruce up your vanity and bathroom experience.
As you scroll through and select your finishes, the image will not change. This was made for you to picture what your chosen finish may look like.