A Helping Hand
If you are designing a bathroom for a loved one who requires care applications, we have put together a list of considerations for your design and bathroom fitting selections to help you decide what may work best for your needs.
Our five main assisted living fixtures include:
Easy height toilets are a great option for assisted living bathrooms as the pan height is around 40mm higher than a standard pan, making it easier to get on and off the toilet.
Easy Height toilets are available in a stylish selection and also Cleanflush (rimless toilet) options where the rim inside the pan has been removed for easier cleaning.
A range of Caroma Care toilets are available with optional backrests and removable armrests for support, plus raised toilet buttons make it easier for people with limited hand mobility to flush the toilet.
Grab rails are a great asset in a care bathroom to assist those who require a little extra support.
We know some people don't opt for grab rails in their bathroom for aesthetic reasons, but these days, Caroma have launched a range of grab rails that double as towel rails for a more subtle approach to the home bathroom.
The stainless steel finish provides a slip-resistant surface for enhanced stability and safety.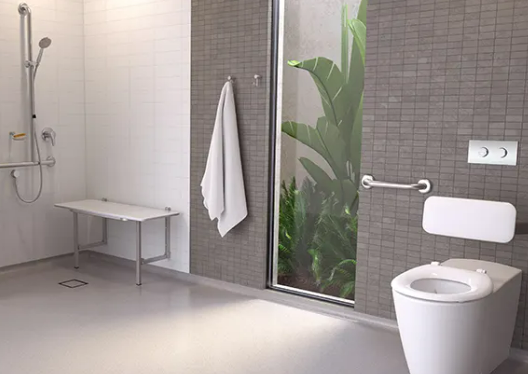 We recommend taps with levers over the traditional cross tapware for a care bathroom as it is easier to turn on and off.
How to Design an Assisted Living Bathroom
There are so many beautiful lever tapware designs for basins, baths and showers, and also available in different colour options.
Check with your plumber to see if you are able to set the temperature of your tap. There are certain taps that can be pre-set to control water temperature in order to reduce the risk of scalding.
Wall hung basins are best for care bathrooms as it does not restrict the floor space around the basin and makes the tapware more accessible.
You can find wall hung basins with side shelves too for additional storage.
If you are looking for a vanity, there are a selection of wall hung vanities that have a very thin profile for easy mobility around and under the vanity.
Showers on rails offer the most flexibility for a care bathroom.
The height of the rail shower can be adjusted to suit the person using the shower, or the showerhead can be removed to use as a handpiece for easy showering.
Check Caroma's range of care rail showers as they also come with grab rails for extra support.