Create a bathroom that's comfortable all year round
While winter may be perfect for cosy nights in and snuggling up under a warm blanket! It's not so perfect for bathrooms, which tend to be the first room in the house affected by the cold.
Let's face it, we've all experienced that moment of hesitation before leaving a nice hot shower, knowing a chilly bathroom awaits!
The good news is that there are plenty of new ways to ensure that your bathroom can withstand the cold and prove to be just as comfortable as any other room.
Top 3 Ways to Create the Ultimate Heated Bathroom
The most obvious way to create a heated bathroom is with underfloor heating. Underfloor heating has become hugely popular in bathrooms of late, with people everywhere wanting that added luxury of warm floors.
Unlike traditional heating methods such as reverse cycle or ducted gas - which distribute heat unevenly throughout the room - underfloor heating uses the entire floor as a heating system, in order to create a comfortable, even temperature throughout the room.
While heated bathroom flooring is likely only an option for those of you with new builds or tiles-off renovations, it's a great option to keep in mind and an investment that you will appreciate for years to come!
FAQS:
How do heated bathroom floors work?
Underfloor heating systems are wired mats that are installed in the slab or screed layer of a bathroom. The heating cable is then wired up with the other eclectics in the room, allowing the mat to heat the floor surface above it and in turn, heat your bathroom.
How much do heated floors in the bathroom cost?
The cost of underfloor heating systems will depend on the surface area you need to cover. Once this is determined you can choose a heating kit size that works for you.
How to install a heated bathroom floor?
Underfloor heating systems are typically installed by an electrician, tiler, builder or in some cases the homeowner themselves. This process usually includes laying the wired mat down - generally, in the slab or screed layer - it is then up to a qualified electrician to test and wire up the floor.

Heated towel rails are another great way to bring warmth into your bathroom.
Just imagine stepping out of your shower, into the soft embrace of a warm, dry towel. What could be better than that during winter?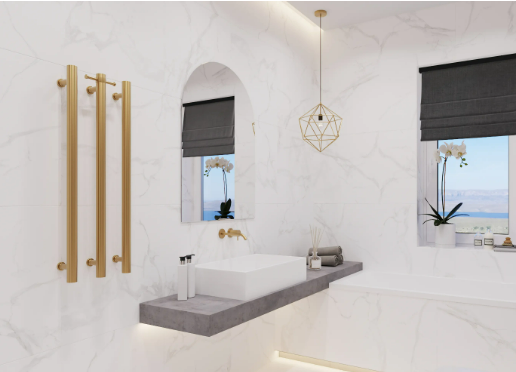 Benefits of heated towel rails
With a ladder, vertical or freestanding rails available in a range of colours & sizes, there is something for every bathroom.
Timers are available for purchase so that you can perfectly choose when your heated towel rail comes on and off - ensuring you don't waste unnecessary energy or time waiting for your towel to warm up!
Towel rails can be wired into the wall or roof cavity for new builds and tiles off renovations, creating a neat and tidy finish.
For existing bathrooms, Thermogroup also offers rails with exposed wiring so that you can plug it into a nearby power point (excludes their 12Volt Range)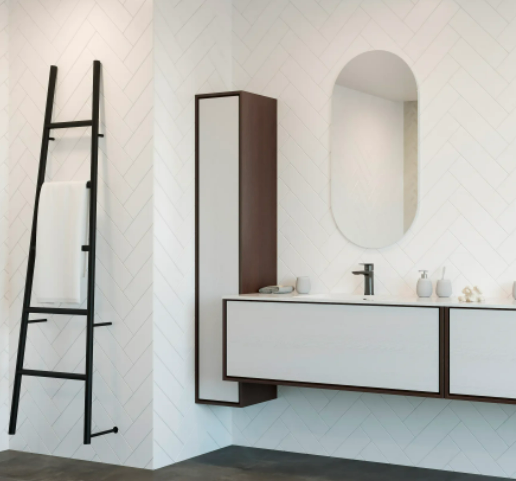 3. Heated Bathroom Mirror

No bathroom is complete this winter without a heated bathroom mirror. You'll never have to wipe down your mirror again after a hot shower on a cold day or night.
Each mirror is installed with a thin heating pad in the back of the mirror which slowly heats up your mirror in order to avoid condensation building up. The demister is connected to the lighting circuit in the bathroom, so whenever your lights are on, your demister will be operating.
Shop Thermogroup mirrors for heated bathroom mirrors.