Stylish and practical - creating your perfect space
Your bathroom mirror might just be the most important bathroom accessory in your bathroom.
But with so many different types of mirrors to choose from, how do you know which will be the best choice for your space? We answer your top questions when choosing the perfect bathroom mirror for you.
What is the best bathroom mirror?
The best bathroom mirror depends on what you need, and what you prioritise. Our personal favourites are frameless mirrors. Frameless mirrors come in many different shapes and sizes including round, oval, arched, and rectangular.
A frameless mirror does not demand too much attention and allows other parts of your bathroom to shine. Whether that be a statement bath, basin, or vanity.
How do I choose a bathroom mirror?
There are three main things to consider when shopping for a bathroom mirror:
- Size and shape
- Design
- Practicality
1. Size and Shape
How big is your vanity? Some people like to have the mirror the exact same length as the vanity, or smaller. If you are unable to find one that is the exact same length, opt for a smaller one – this will be easier to centre and style around.
Think about the shape you want for your mirror!
Oval bathroom mirrors elongate the vanity area. These are perfect for smaller vanities with a single bowl or double bowl vanities where two mirrors will be needed. Because of the oval shape, the space will look higher. Similarly, around a bathroom mirrors can create the same effect, but width-wise.
An arched bathroom mirror is best styled with larger vanities with a single bowl. The arched shape brings the vanity and the mirror together.
Rectangle and square-edged bathroom mirrors are great for making the most out of your space. This style of mirror is perfect for longer vanities with a double bowl as this creates a unison between the individual bowls.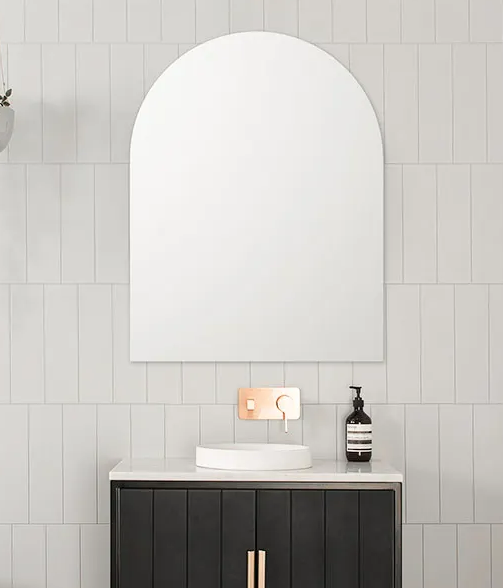 To go framed or frameless?
A framed bathroom mirror is most popular when going for a traditional, classic look. Framed bathroom mirrors can come in many different styles including simple woodgrain, painted edging, and even French Provincial styles.
Frameless bathroom mirrors are perfect for creating the most of a small space as these create the illusion of more space. Frameless mirrors offer a more modern and luxe feel while being lower in cost as well!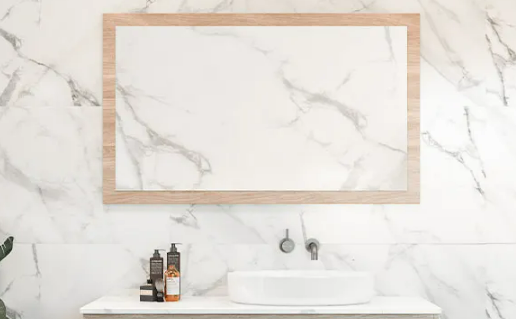 Think about what you and the others using your bathroom need. Perhaps it's storage, in this case, you could get a shaving cabinet! Shaving cabinets offer plenty of storage whilst looking stylish. You can even get a mirror lighted shaving cabinet to really elevate the look of your space.
If you need some extra lighting when you are doing your makeup, hair, or just shaving opt for a bathroom mirror with lights. Not only are these practical but can also provide a beautiful ambience in the bathroom.
You could even get the best of both worlds and opt for a bathroom mirror with a shelf. These bathroom mirrors don't have storage behind it, but rather in front of it and are perfect for adding decorations or storing your toothbrushes and other things you don't want laying around your benchtop.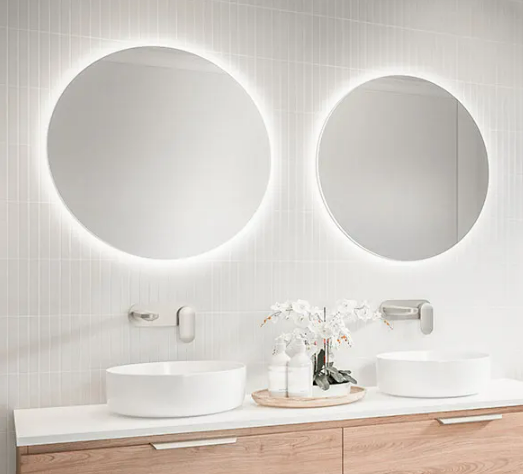 What is the trend for bathroom mirrors?
Arched bathroom mirrors are the top mirror trend this year. The beautiful curves of arches soften the look of the space and make your bathroom feel more spacious and light.
The arch trend in interior design brings back a classic feature, and 2021 is showing us how we can modernise this style.